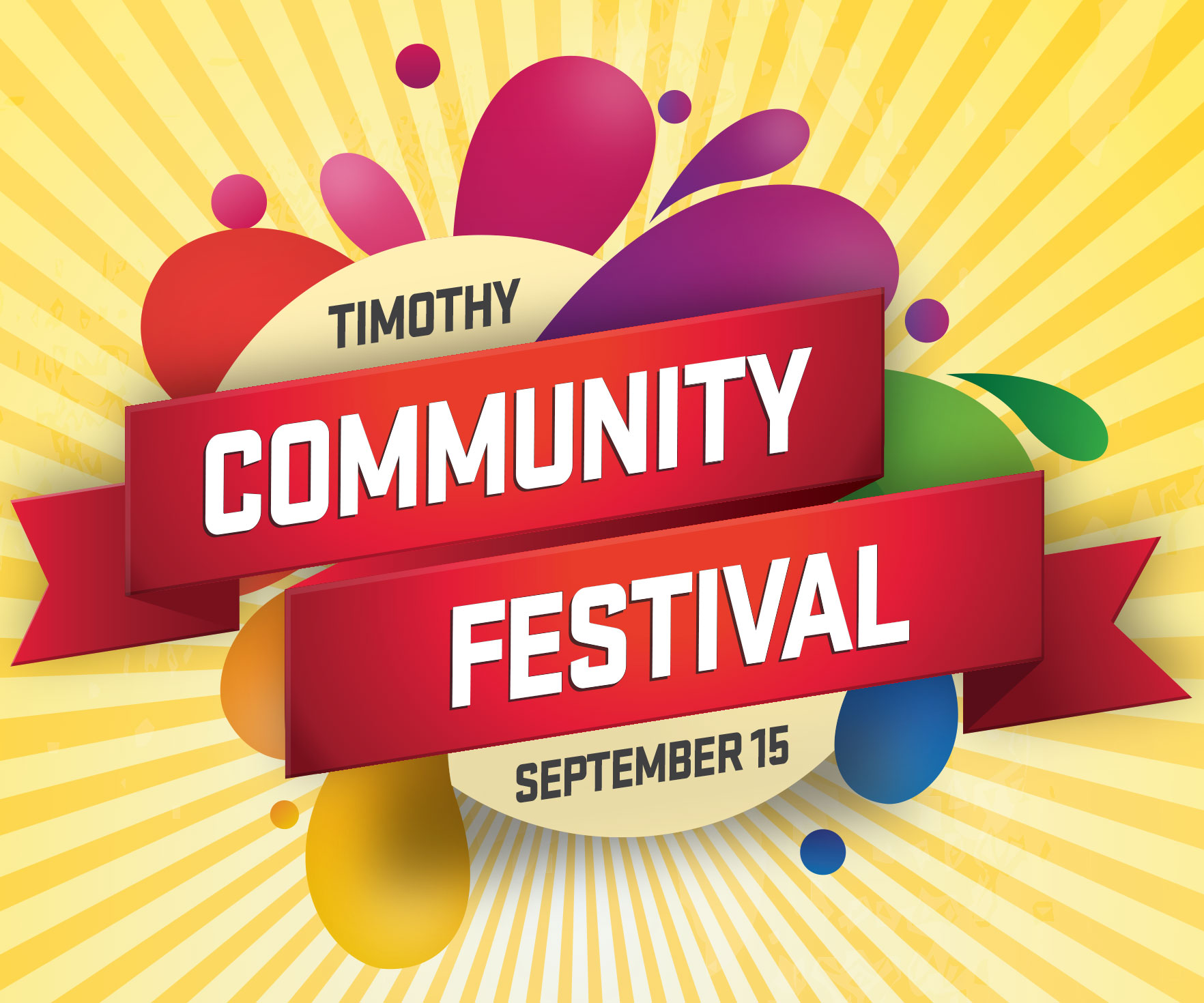 ---
Schedule
Saturday, September 14
| | |
| --- | --- |
| 9:00 | Doors Open |
| 9:00 | Tim's Cafe Opens |
| 10:00 | Reptile Show |
| 11:00 | Carny Hall Opens for Lunch |
| 11:30 | Reptile Show |
| | Silent Auction Closes at various times - see details at festival |
| 2:00 | Festival Closes |
We Accept Cash, Debit and Credit Card
Check out facebook.com/TimothyCommunityFest for up-to-the-minute updates!
Contests
That's right! Contests are right around the corner. Take the summer to put together your entries for the contests at the Timothy Community Festival in September.
---
Features
MCTIMOTHY'S
McTimothy's will be available for our early morning shoppers and browsers! A delicious bacon & egg sandwich with coffee for just $5 (while quantities last!).
MIDWAY
The midway is back with new bouncies and games you won't want to miss. Buy a bounce & play all day pass!
SILENT AUCTION
Get the best deal of the day with a discreet bid. Don't forget to check on it throughout the day until it closes at 2:00.
WOMAN'S FASHION BOUTIQUE
Gently used women's clothing room - bargain prices for "on trend" clothing and jewelry. Sizes range from XS-XL. Come and score yourself a new outfit (or two)!
CARNY HALL EATERY
The kitchen opens at 11 to serve up a delicious lunch with a menu to please everyone.
ONE-OF-KIND SHOPPE
Check out this one of a kind room to purchase all those decorative items you've always wanted to make but you know you never will. There are handmade wood signs, refinished furniture, and unique items that fit all budgets.
REPTILE SHOW
NEW to the Festival this year! We are excited to present Little Ray's Reptile show! Show times are 10AM & 11:30am. Get up close and personal with snakes, lizards, turtles & even a small crocodile!
FACE PAINTING
Transform your face for a day! Our face paint is good for many skin types and easy to wash off with soap and water.
FARMER'S MARKET AND FLOWER SHOP
Stop by and peruse our selection of beautiful cut flowers and delicious home-made preserves.
TREASURE COVE
In Treasure Cove, everyone is a winner. Buy a ticket and you are guaranteed to walk away with a bag full of great prizes.
HOME DECOR
Don't miss our wonderful display of gently used home decor items to add that extra touch at home. Artwork, lamps, candles, furniture, and vases among other tasteful items will be available at bargain prices.
BAKED SWEET TREATS
Bring home a fresh supply of baked goods so you're always prepared for those unexpected guests: squares, cakes, and everything in between. Yum!
GLITZ, GLAMOUR, AND BLING
Our style savvy buyers have filled this room with the latest and greatest trends in a variety of accessories for girls and women. Purses, jewelry, hair accessories, and more at such great prices you're bound to walk out with a new favourite.
EUROPEAN MARKETPLACE
Stop by to pick up your favourite Dutch products. We have dropjes, cheese, and more...