Timothy is based on the Reformed faith as confessed by the Canadian and United Reformed churches.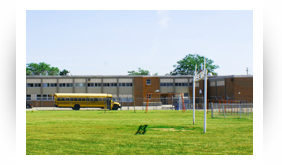 We believe that all aspects of school life are defined by a Christian perspective. The basis of a Christian education stems from biblical authority and a Christ-centered world view that is shown through all subjects. Students are expected to live a Christian lifestyle and honour God in their studies and behaviour.
The purpose of Timothy Christian School is to assist parents in the development of their children as children of God by:
equipping them with knowledge and skills to live a life of love and service,
teaching them to fear the Lord in the development of their gifts,
directing them to treasure, understand and apply the covenantal relationship the Lord has established with them, and
guiding them along the path that leads to Godly wisdom.

This purpose is based on the fact that the earth is the Lord's and everything in it. All things are subject to the will of God and can never stand apart from it, so the children are taught what it means to live and work as a child of God in the world that God has created. They are taught to seek their God in all things, to trust him and to love Him with their whole heart, soul, mind, and strength.
Instruction at Timothy Christian School is done by Christian teachers in an environment that is based on the Word of God, and not tainted with the aimlessness and hopelessness of this life. It goes beyond simply teaching factual knowledge and skills; all activities and studies are carried out in the context of biblical wisdom, where scripture clearly shows that the "fear of the Lord is the beginning of knowledge/wisdom" (Prov. 1: 9; 9:10) and that "Someone has wisdom if he understands and does the will of God" (Eph. 5:15-17).
It is our hope that as you click through this site you will become more informed and acquainted with the happenings at this school.
Where can I find more information on the Canadian Reformed and United Reformed Churches?
Canadian Reformed Church Federation